The Storm and the Crown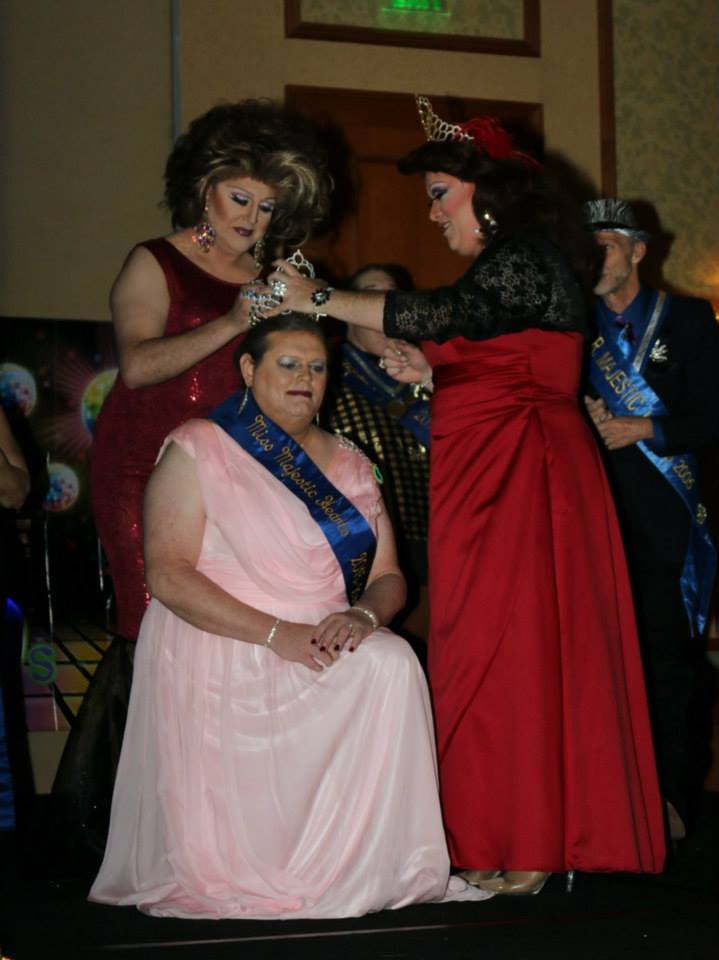 I am Amelia Storm, she who condensed from the vapor of purest METAL to help out her friends in an hour of darkest need. Black leather is my uniform, and the Horns are my Sign. I am the Queen of Metal and the mistress of a thousand power chords. Heavy metal is for everyone! ROCK ROCK ON!
- The Amelia Storm Creed
March 28, 2015:
The show that Miss Millie, our reigning Ms. Majestic Hearts, had booked at Charlie's Denver was not going well.  Many of the performers that she had asked to perform had simply not shown up.  It was going to be a short show, it looked like. Phyllis was a bit disappointed.
But I did my part to help, and stepped forward.
---
I had been attending Majestic Hearts' drag shows almost since Phyllis and I had become friends, helping the group raise money for its many charities.  In recent months, I had also become Phyllis' dressing room assistant, helping her change from outfit to outfit over the course of a show. I'd gotten an inside look at the business of how a drag show ran.  In fact, the previous year, as I'd attended a dinner held to introduce the 2014-2015 reign, Angie Chanel, the new reigning Miss, predicted that I would become the next Miss Majestic Hearts after her.
I'd laughed at her prediction. After all, I wasn't a performer.
But maybe I should be, I later thought to myself.  I could certainly do what I've seen the other queens do. And I could do it my way, using my favorite music...symphonic metal! Nobody does that.
I started imagining how I might perform on stage, what I would wear, what music I would use.  I even made up a name: "Amelia Storm." I took "Amelia" because it was similar to "Amy" and could even be shortened to "Amy," making it easy for people to identify me. "Storm" came from the music I would perform, the powerful sound of bands like Nightwish.
It all started happening, though, that night in March.
---
I put myself on the set list for the show, under the name "Amelia Storm," for two numbers. I had no costume, but I was going ahead with it anyway, in my floral party dress.  I carefully explained to the DJ what songs I wanted, and she was able to find them online.
And I came on stage for my first one, to one of my favorite Nightwish songs, "Amaranth." I had kind of worked out the choreography in my mind, based on a performance I'd seen on YouTube from the Finnish TV series Kuorosota ("Clash of the Choirs"), in which a choir had choreographed dance moves to the song.  It was a little rough in places, but I had the lyrics down cold: "Caress the one, the hiding amaranth in a land of the daybreak! DAYBREAK!" And, in that moment, I developed the convention I would use at the end of my performances: curtsy, "throw the goat," curtsy again, "throw the goat" again, and walk off stage holding up the sign of the horns.
(Phyllis never liked me using that gesture. But it kind of became my trademark.)
My second number was more elaborate: Within Temptation's "Our Solemn Hour," based off of Winston Churchill's speeches in World War II. I liked it for its driving chorus: "Sanctus Espiritus, redeem us from our solemn hour! Sanctus Espiritus, insanity is all around us! Sanctus Espiritus, is this what we deserve, can we break free, from chains of never-ending agony?"
Both of my numbers got applause from the small audience that was gathered...and also got tips, which, as per procedure, I dropped in the tip bucket, where they would go to that show's charity.  I ended the show elated; I had actually done it! I was now a performer! And both Millie and Phyllis were grateful for the assistance.
---
Not long after that, I made a decision.  Angie hadn't really done all that much for Phyllis in her year as Miss Majestic Hearts.  The previous year, there had been a big stink, when the original Miss, Hayli Mykels, had quit, leaving Phyllis to appoint Joanna Rae as honorary Miss to finish her year.  I knew Phyllis needed a Miss she could work with, and could trust. And that person, I realized, either had to be me, or someone I trusted less than myself, there being no third category.
So I submitted my entry to the 2015 Majestic Hearts Pageant, and my application fee. I put lots of flowery words on the application explaining why I wanted to represent Majestic Hearts, but I made sure Phyllis knew that, whatever I wrote on there, the real reason could be summed up as "To help Phyllis."
The theme of the pageant was the rather uninspired "Music from the 60's, 70's, and 80's." The pageant had three categories: themewear, talent, and formal.  I already knew I was going to refine my "Amaranth" performance for the talent part; I'd even ordered a black leather dress and boots to make up most of the costume for that.  And the pink evening gown which I'd used as a fairy princess costume for Halloween at the office would serve for formal wear; it was, after all, made to my measurements.  That left the themewear competition, for which I decided on a "flower child" costume from the 60's, with a tie-dyed T-shirt over a flowing skirt, leather sandals, love beads, a flower for my hair...and flowers for each of the judges, which I would hand them at the beginning of my stage appearance, recalling the famous photograph of a flower being placed in the barrel of a National Guardsman's rifle.  I did all this to the Mindbender's original version of "Groovy Kind of Love."
It all came together at the Pageant on May 9, the day before Mother's Day. A freak snowstorm had flared up in Denver that afternoon and evening, but I took it as a good omen, thinking of it as "Amelia's Storm." In the Contestants' Dressing Room, I worked hard to get from outfit to outfit as required for my appearances on stage, changing my hairstyle and makeup in addition to clothes.  The themewear competition went off well, as did the debut appearance of my "Battle Dress" as I lipsynced "Amaranth."  I had arranged the music for my formal wear appearance as well: the instrumental version of Nightwish's "The Crow, the Owl, and the Dove," which has a lot of acoustic guitar and orchestral backing.  After which, there was a question-and-answer part of the competition, which I don't even remember now but managed to get my way through in my Amy-voice without any major stumbles.
The waiting afterwards was nail-biting, until the contestants were called back into the ballroom.  Though I wasn't actually running against anyone for the title, I had to make a minimum score in the competition to win.  And, apparently, I had, because I knelt on that stage, still in my pink evening gown, as Angie and Kelly Rose first draped the blue sash with its gold lettering around me, then set the tall crown of Miss Majestic Hearts on my head, pinning it in place.  I stood on that stage alongside my fellow contestants, Tracy Alexzander as Mr. Majestic Hearts and Izzy Ahee as MsTer Majestic Hearts, as we were cheered, photographed, and finally released to the dressing room.
I changed back into the simple gray dress I'd worn earlier, then reattached my sash and crown, and took a selfie which I posted to Facebook, with the caption, "I did it!"
It was the culmination of a lot of work, to be sure...but it was also only a new beginning.