Amy's Day of Beauty
"Your Majesty, Paolo is exhausted. Because only Paolo can take this, and this, and give you..."
"A princess."
- Paolo, Gretchen, and Helga, The Princess Diaries (2001)
May 11, 2013:
As Sabrina and I pulled into the driveway at Hana Designs in Littleton, I felt a little trepidation.  Not just because this was the first time I'd have my hair cut in four years, but because this was the first time I'd have it "done" as Amy.
My friend Bree had recommended the salon to me, and the previous Wednesday I'd made the call to set the appointment...from a supermarket parking lot on my lunch break, speaking in Amy-voice, and having played some of my girly music beforehand to put me in the right frame of mind for the call.  I spoke to Hana, the owner of the salon, and arranged appointments for "Amy Tapie" and her "girlfriend" for 9:45 on Saturday morning.
I had woken up early that morning to complete the transformation into Amy, having left my red nail polish on from a GIC meetup the night before.  I was wearing my pink knit casual dress, pink pumps with one-inch heels, a white shrug from Walmart, and simple jewelry and makeup, with a black headband for my hair.  Sabrina had dressed to semi-compliment me, in a pink sweater and black skirt.  We had a bit of trouble finding the salon, actually driving to its former location before we found the right one, but made it there on time.
The atmosphere of the place was instantly relaxing. Hana, a petite and energetic Asian lady, greeted us, and, as soon as we'd identified ourselves and our appointment time, we were escorted to the central waiting area, with comfy chairs in a circle. Sabrina's treatment would take longer than mine and require different preparation, so I was led to a salon chair first, where I dropped off my purse, shrug, and headband and was wrapped in a leopard-print satin cape.
Heaven on Earth
Francesca, a young lady in purple hair and a little black dress, started me with a scalp massage, using a fragrant oil designed to stimulate the chakra of "grounding."  Sabrina agreed that I needed that. She then took me over to the basin for my shampoo. Unlike most salons, where you sit in a chair and lean back into a basin, Hana Designs has you lie on a padded table, which is easier both on your body and your hair. She remarked on my height as I walked over, saying, "I could never be that tall even in heels!"
"It runs in the family," I said, lying down on the table.
As she adjusted my position, she commented, "You're not wearing mascara!" She was correct; I had purposely left it out as part of simplifying my look. She told me that a light coat of non-volumizing mascara would be perfectly appropriate for that time of day. I made a mental note to find some non-volumizing mascara in my color. She also complimented me on my eyeshadow, which was just a couple of L'Oreal shades; Sabrina had taught me well.
After my shampoo and rinse, I was eased back up and led back to the central waiting area, where Sabrina was receiving a hand and arm massage from Wendy, a new employee who was at the salon for her first day of work. I picked up a travel magazine to read as my fiancee got the treatment. When she was finished, Sabrina was led off for more preparation, and Wendy proceeded to give me the same treatment. I didn't even have to remove my "engagement ring" (which Wendy complimented me on), I just sat there, eyes closed with pleasure, the magazine on my lap, while she pampered me. It was heavenly. Afterward, she left me to read for a bit, until I was called back to the salon chair to begin my cut.
A Princess Emerges
Hana herself handled my cut, opting to remove about three inches from my hair (mostly dead ends) and to shape a fringe around my forehead to make my face more oval-shaped. She placed my part on the left, though not as far left as I would have it in "guy mode." Though she was called away frequently on other matters (as the store owner, of course she was busy), she deftly worked her magic.
She turned me over to Marcus, who seated me in another chair and took up brushes and blow-dryer to style my hair. He put me well at ease as he smoothed and straightened my hair. As he finished, he told me, "Look up. Look at yourself." I did so.
Was that me? Was that really my hair?
I only knew one good metaphor for this. "Did you see The Princess Diaries? Do you remember the scene right after Mia had finished her makeover with Paolo?"
"Why don't I just call you 'Mia'?" replied Marcus. He led me across the salon to a makeup chair, where he seated me and applied some touch-ups to my makeup, a few highlights and contours, some added eyeliner and lip color...not very much at all. He then turned me to face the wall mirror there. I gazed in wonder at the beautiful woman in the pink dress on the other side of the glass. For the first time in my life, I truly saw Amy's full potential, the woman that had been inside me all this time.
"What do you think, 'Mia'?" asked Marcus.
"Princess Mia," I said. And that was what I felt like: a princess.
Marcus led me back to my original salon chair, to await some final trimming by Hana. Next to me, Sabrina was having her hair packed in rollers for her perm. I smiled over at her, but I simply could not keep my eyes off the mirror, examining myself at different angles. There was no doubt in my mind; I was Amy as I had never been before.
Hana completed the final trim work, informing me in the process that she'd just had a number of her shears sharpened, and she'd tested every single one of them on my hair. She showed me the final look, including the hair cascading down my back; it hardly looked like she'd taken any length off at all. She removed my cape; I was done.
The Waiting is the Best Part
I may have been done, but Sabrina still had work to be done on her perm. I was free to roam the salon, and I did so, practicing my feminine walk and gazing into mirrors as often as I could. I stood by Sabrina as she stood over the basin for the rinse, massaging her lower back. (She couldn't lie down because they needed to take care of the rollers at the base of her neck.) I went back to the waiting area, where I took out my phone and snapped a picture of myself: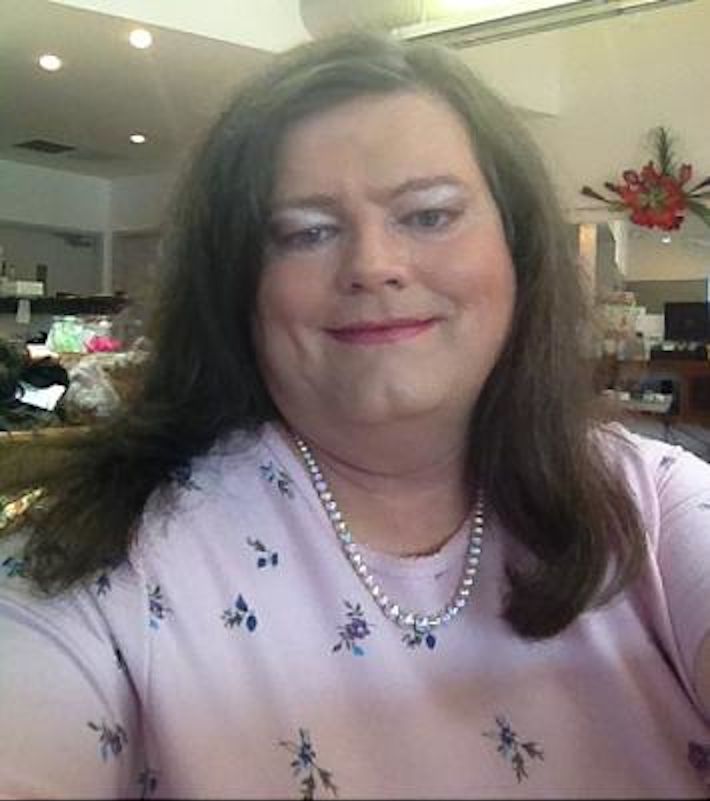 I then signed into Facebook and posted the picture there. At that point, Francesca appeared, and showed me the various salon products she'd used on my hair. I realized that probably wasn't carrying enough money to buy them now, so I said I'd come back in a week. She also revealed that she was a certified makeup artist, and they did makeovers there too, better than MAC's, since, as she put it, "MAC people are basically salespeople."
As I sat back down, another lady came in, and my CD radar clicked on immediately. She was also there for a trim, and she was seated in the chair next to me in the waiting area. We started chatting; she introduced herself as Kendra, from Los Angeles, but in the Denver area on business for several months. She looked like she was transitioning; I guessed she'd been on HRT for awhile. Francesca came along and gave her the hand and arm massage (about which I assured her, "You're gonna love this!"), for which she had to remove her rings. After she'd left for her shampoo, I realized she'd left her rings on the table. I went up and let her know, then fetched them for her.
I stood by as Marcus seated Sabrina in the makeup chair, applying a little makeup to her face; she'd used none before coming in. The effect was striking; a little went a long way. He then tried a slightly darker lip on me while I was over there, which looked good, especially when I smiled.
Finally, we went over to total up the damages: $260 for the two of us. I had only brought $200 in cash, but a quick bank transfer allowed me to pay the rest with my ATM card.   That meant they now knew my real name, but, as they say, "Only her hairdresser knows for sure." I added a $20 tip, and Hana encouraged us to come back in six months, and also in two weeks as they'd be having a sale on the salon products then. We left.
Out and About
Sabrina was hungry, so we needed to get her some food. I stopped at a bank to use their ATM; I had to get out of the car to do it, though. No issues there; a young man was using the ATM as I waited, but then left without comment. Sabrina decided we should pick up some sandwich meat and a salad for her at King Soopers; after passing up one crowded one, we wound up at one that looked almost equally crowded.
There were more people in that supermarket than Amy had ever been around! And as I walked through the store, stately, head held high, none of them even glanced askance at me. I had gotten to a point where I simply did not worry about whether I was "passing" or not; I simply believed in myself, and believed in my appearance. I interacted with several employees, from the man behind the deli counter to the attendant at the self-checkout to the woman at the service desk when I bought us a Powerball ticket. None of them treated me as anything other than what I was presenting as.  And my fear of being out in public as Amy was gone; it would never come back.
Finally, we reached home, where I, unfortunately, had to deconstruct myself to go and help a friend move. (I would gladly have gone as Amy, but that job turned out to be no place that would be kind to my heels!)
You know, I never did put that headband back on that day?